September 15 ,2011
Some people already know this.
Yesp, here we go.
This car will be debut at MME race on 16th and 17th Sept at Sepang circuit in Malaysia.
This car will be drive on Super Taikyu on 2012 at ST-X class.
Yes, now the 0Audi R8 is hot and this is same class!
R8 and 「MERCEDES BENZ SLS AMG GT3」 you should check it out!!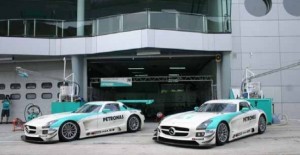 September 15 ,2011 21:00 | CATEGORIES:RACE