September 22 ,2011
Do you see this is aliens? Vartan?? Animated character???
This title is really very pesky, yes this is Evo things.
Now we are doing campaign which is EVO. Here(Japan only)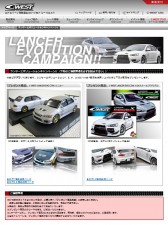 This is popular palm-sized model cars so, so we almost run out. (pq*´∀゜)ウレスィ~♪
I wanted to show you finalized EVO10 plam-sized car.
I ask one of our staff to make up the car and give one kit to him・・・
One week。。。
Two weeks。。。。
One month。。。。。
Three months 。。。。。。
Then season changed.
Six months。。。。。。。
I haven't got completed one yet.
I guess he forgot lol
Please search 「C-WEST Run EVO plam-sized model」 at google.
You can find may cars even they are not made by professionals.
I found the person who put decal on that and made it clear. It's really professional.
Other one was decal has been changed to other character. Kind of greek isn't it??
Everyone done great job♪
I should ask to make them not our staff??
September 22 ,2011 20:52 | CATEGORIES:CZ4A LANCER EVOLUTION 10