September 14 ,2011
There are pictures which on our web site, we have 5 cars at a moment.
・CR-Z ZF1
・INSIGHT ZE2
・IMPREZA GRB
・LANCER EVOLUTION Ⅹ CZ4A
・RX-8 SE3P
*R35 GT-R will be added shortly!!
We are going to add C-WEST facebook site also.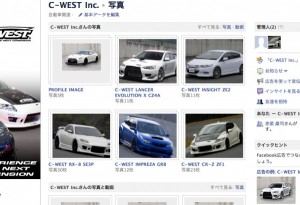 We also take picture and add of cars with C-WEST aero.
Please check user gallery there are many cars with aero kit!
※Only the Japanese website
September 14 ,2011 20:32 | CATEGORIES:INFORMATION